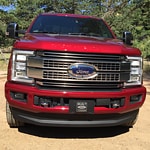 The Ford Super Duty id a popular heavy-duty truck. That's because the Duper Duty leads when it comes to productivity. Here are two top productivity features of the current model Super Duty.
The Super Duty offers you up to seven cameras. These cameras are designed to assist you when it comes to driving, hauling, towing, parking and more. Quite simply, these optional cameras are your extra eyes on the road and on the worksite.
To help you carry more stuff, the Super Duty comes with class-exclusive rear flat-load floors. Not only that, but the four-door Cred Cab also comes with class-exclusive a folding and lockable under-seat box. You won't find these types of storage solutions on other trucks.

See the Super Duty in action

?Discover all the amazing productivity features of the Ford Super Duty. Take it for a test drive at Ken Garff Ford. YOu will be impressed by what the Super Duty has to offer.